Makers of the best selling Day Clock in the USA.
Over 1,042 five-star US reviews.

Growing older shouldn't mean losing touch.
The clearest reminder clock to make the most of each day.

- Official Australian Supplier -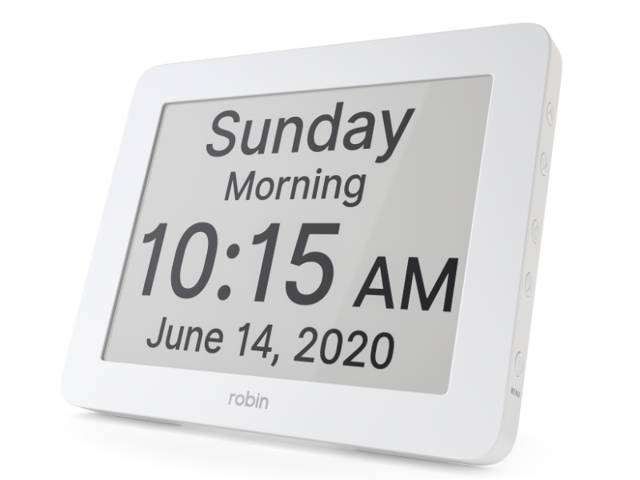 The 8" clear colour display ensures a sharp, crisp
easy-to-read image that can be seen from all sides of the room.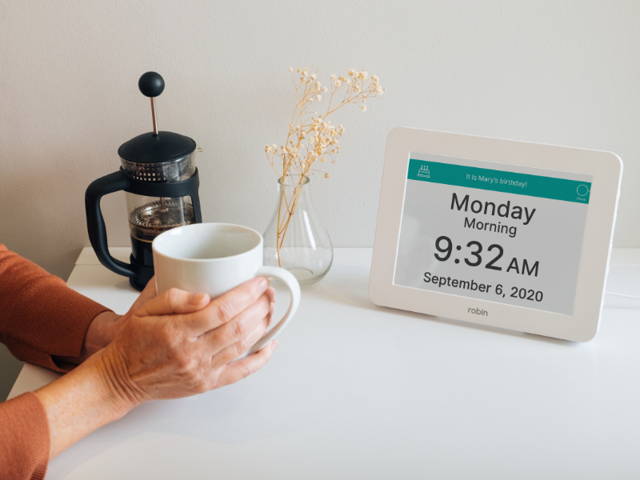 Set unlimited on-screen reminders for events or activities such as Medication, Favourite TV Shows, Birthdays, Exercise etc..

The following settings are customisable:
- The on-screen message.
- Alarm volume, sound & length.
- Reoccurring days of the week.
- Alarm snooze-able or not.
- Flashing screen to attract attention.
Choose from 24 preset reminders or create your own.
"Works great to remind my mom to take her meds in the morning and in the evening."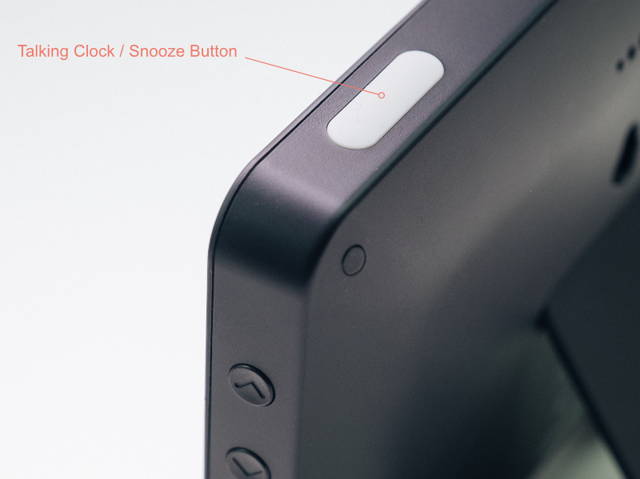 Perfect for people with low vision. An easy-to-find button on the top will instantly speak the date/time.
You can also schedule periodic time announcements at reoccurring intervals (60, 30 or 15 min), during your chosen hours each day.
This button also acts as a Snooze button when an alarm is sounding.
NOTE: Audible language is english only.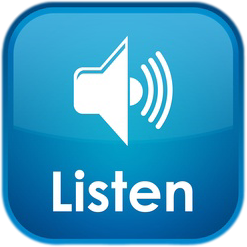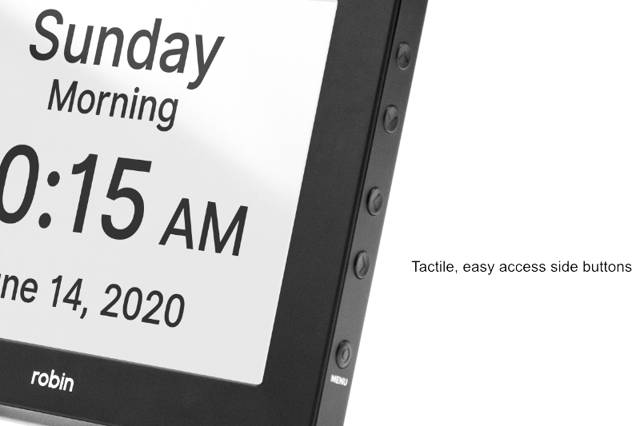 Most day clocks have their buttons on the rear, making it difficult to set/cancel alarms and reminders.
Robin Clock has easy access side buttons with on-screen contextual labels, making it incredibly easy to use.
The buttons are beautifully tactile, making them easy to find without looking.
Buttons can also be locked to avoid unwanted changes.
"This clock is amazing! I know they are marketing it to older people, but I think this clock is awesome for anyone! I have it on my kitchen counter and it looks so modern and sleek. I get compliments on it all the time. I'm thinking about getting another one for my bathroom. It took me all of 3 minutes to set it up. It's very user friendly."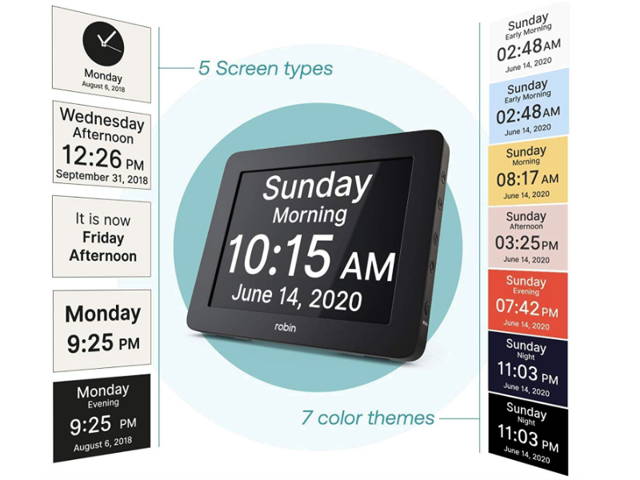 For optimum clarity, customise the amount of information displayed on the screen to suit individual preference / capability.
Choose from five different preset themes, each with numerous colour variations. Alternatively, customise the theme to suit your own taste.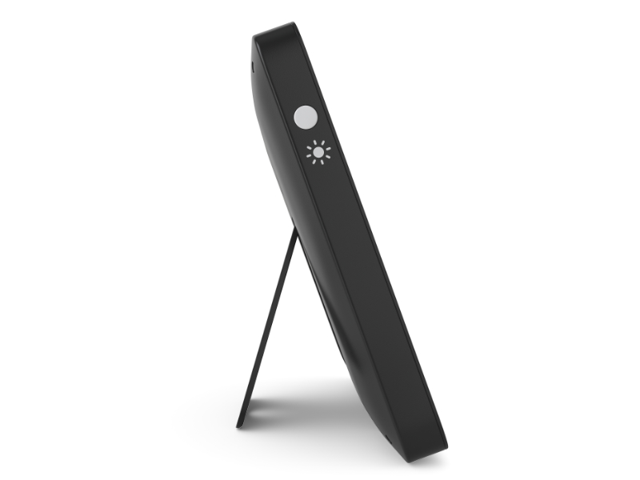 Auto-dimming ensures the screen is not too bright during sleeping hours. Dimming times can be scheduled to suit your preference.
Additionally, a one-touch-dimming button instantly dims the screen to 10% brightness for the next 4 hours. Perfect if taking a nap during the day.
"My grandma has Alzheimer's and this has helped her so much. We had tried other clocks, but this was easy to use and easy for her to understand. Highly recommend"
Supports 10 different languages.
English, Spanish, Hebrew, French, Italian, German, Arabic, Russian, Portuguese, Japanese
NOTE: Audible clock language is English only.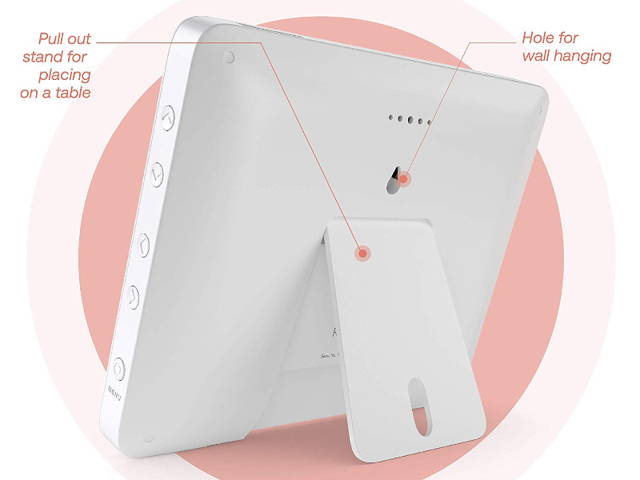 An integrated wall mount and desk top stand is included to suit your preference.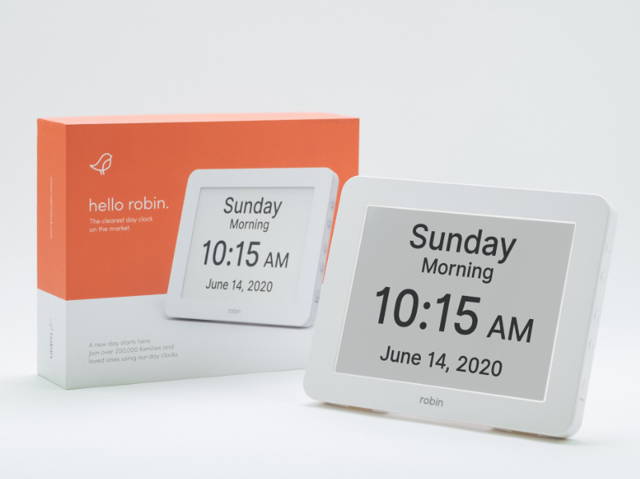 Robin Clock is beautifully packaged, includes a simple getting started guide and is wonderfully affirming in it's presentation.
There is no mention of ageing, memory-loss or dementia on the product, packaging or user manual.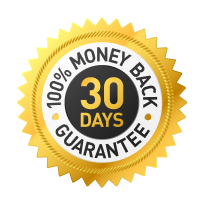 Buy with confidence. We're confident you'll love robin clock. However, if for any reason you decide it's not for you, simply let us know within 30 days and return it for a full refund. No questions asked.
1) 100% Australian owned and operated.

2) Australian stock that meets Australian safety standards.
3) First class Australian based support.
4) Our mission - supply simple technology that enhances life, independence and personal wellbeing.
5) Our products are incredibly easy to use. We don't sell complicated products.
6) Our priority is you, our customer. We'll treat you the way we would like to be treated.
Our Background
Our team combine decades of experience in the world's largest electronics companies, aged care and community care sectors.
We understand that simple, reliable products can make a huge difference to quality of life.
It is our hope, that our experience can bring joy and independence to you and your loved ones at all stages of life.

HOMELife, made simple.
ABN: 22 640 596 998