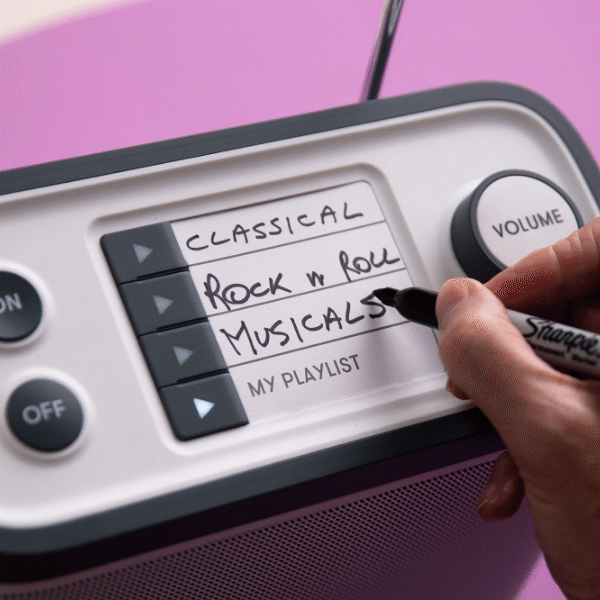 Personal scribble strips for instant access to favourites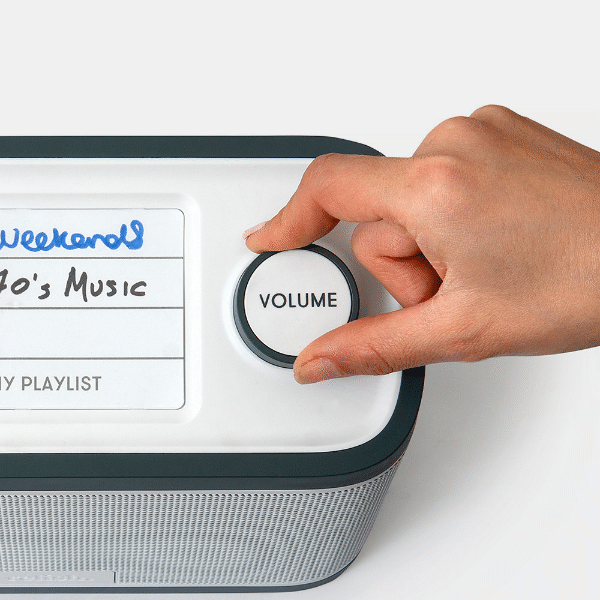 The volume knob never goes to ZERO, so you can always hear if the radio is On or Off.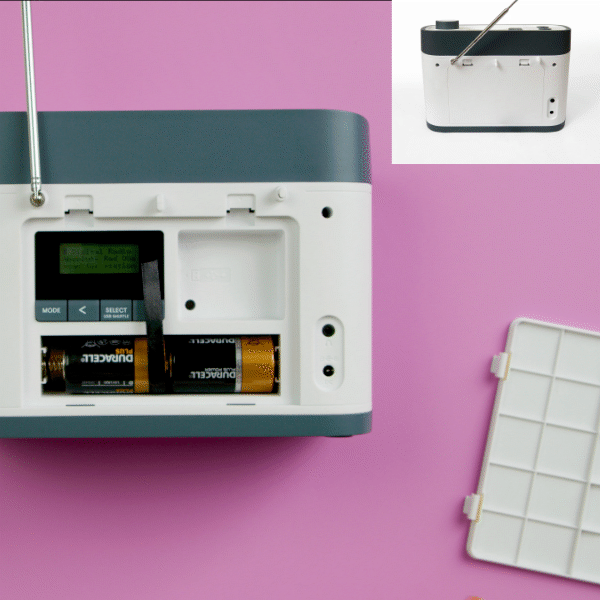 A hidden control panel ensures settings don't get accidentally changed.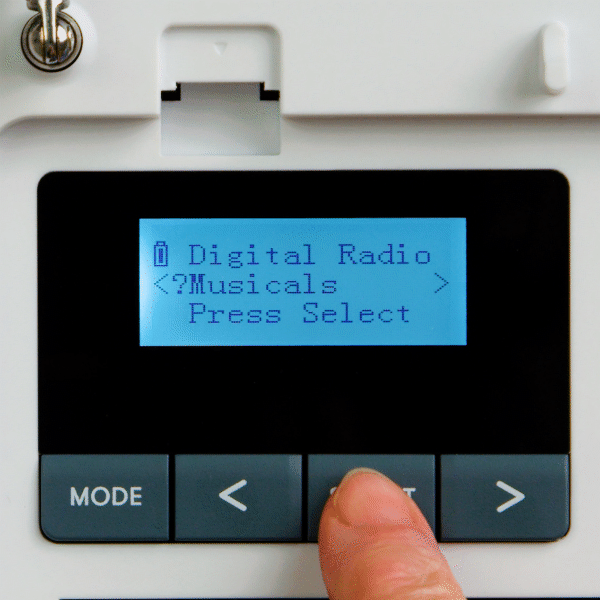 DAB+ Digital Radio ensures perfect tuning every time with access to hundreds of unique stations*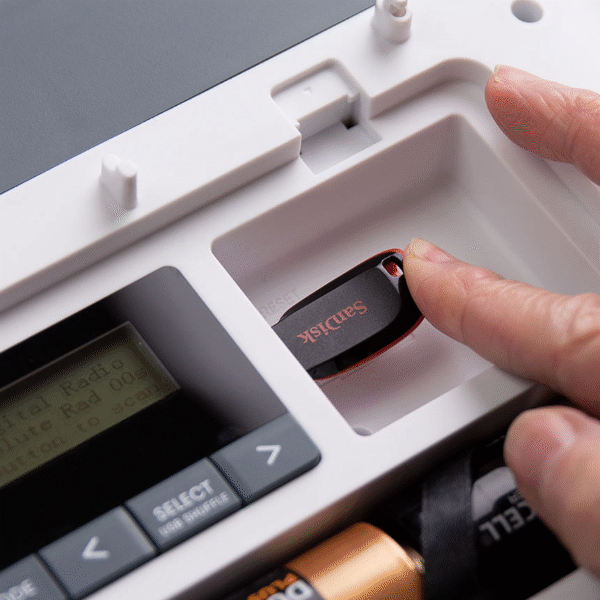 Enjoy MP3 Music or AudioBooks
Create your favourite MP3 playlist or enjoy MP3 Audio Books.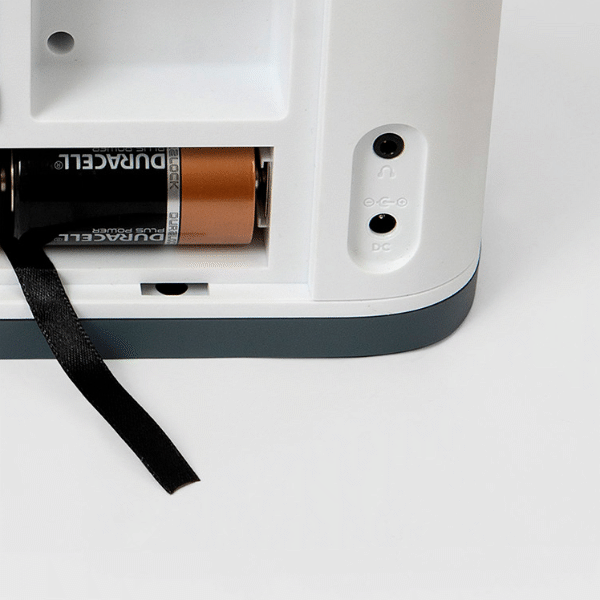 Headphone socket for silent listening.
Australian power supply included.
Optional battery operation for portability.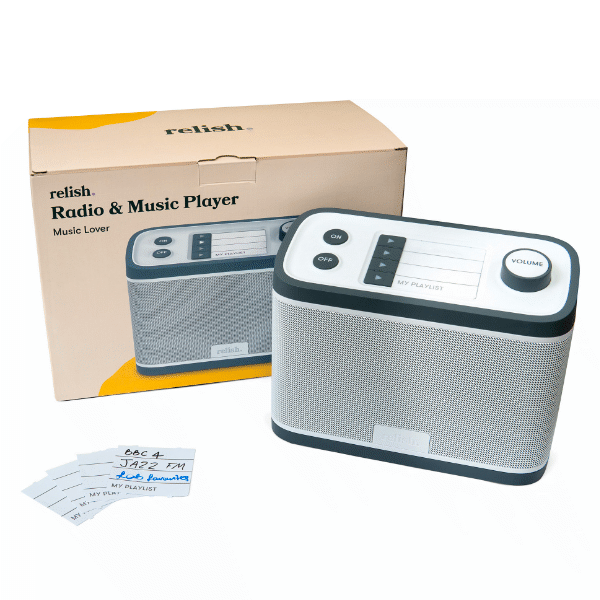 Beautifully packaged, includes a simple 'get started' guide, Australian power supply and five scribble strip sheets.
There is no mention of ageing, memory-loss or dementia on the product, packaging or user manual.

Buy with confidence. We're confident you'll love Relish Radio. However, if for any reason you decide it's not for you, simply let us know within 30 days and return it for a full refund. No questions asked.
100% Australian owned

.

Australian stock & Australian support.

Our mission is to supply easy-to-use products that enhance life, independence & personal wellbeing.

O

ur priority is you

. We'll always treat you the way we would like to be treated ourselves.
The typical power button symbol is non-descriptive & provides little clarity as to it's function.
Relish Radio has independent, clearly labelled, and tactile ON/OFF buttons.
This greatly reduces the likelihood of confusion.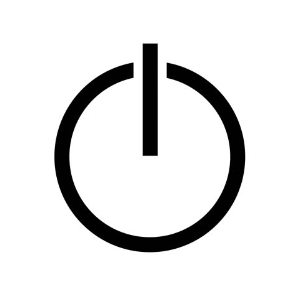 When a typical volume knob is turned all the way down, the user can easily think the Radio is OFF.
So when they turn the radio ON and don't hear anything, it can easily generate confusion.
For this reason, the volume knob on Relish Radio never goes to zero, so even when turned all the way down, they can still hear that the radio is actually on.
To ensure consistent, reliable operation, all settings are hidden behind a removable cover. No tools are required to remove the cover but it does require two hands.

Settings that are behind the panel include:
- Tuning the radio
- Configuring presets
- DAB+ or FM Radio mode
- Scanning for stations
- MP3 shuffle or linear mode
This is also where the USB stick for MP3 playback is inserted and where the optional batteries are installed.
So once set up, you can be confident everything remains as it was originally set up.
You would be familiar with AM and FM Radio. Well now there is also Digital Radio. Digital Radio is broadcast across Australia using the DAB+ broadcast standard.
There are three main benefits to Digital Radio:
1. Perfect tuning. No more fuzzy stations.
2. Sound Quality. DAB+ broadcasts superb quality sound.
3. More Stations. Not only are most of your favourite stations available, but there are many additional stations across various ethnicities, religions, genres and more.
Visit DAB+ Radio Australia to check what stations are available in your area.
NOTE: DAB+ broadcasts aren't available in some rural areas or in New Zealand. You can enter your post code here to see what stations are available in your area.
*Relish Radio also has a traditional FM Radio tuner built in, so even if in an area that does not have DAB+ available, you will still be able to enjoy a quality radio experience.
The 4th pre-set button is dedicated to the playback of MP3s from the USB slot.
A single USB drive can hold thousands of songs, so this is a great way to enjoy all those favourite CDs that don't get listened to anymore.

Playback order is linear with auto resume from last track. This makes it ideal for hundreds of music tracks or MP3 Audio Books.
Playback loops back to the beginning once all tracks have been played.
NOTE: The USB stick needs to be less than 5cm long in order to fit in the available USB slot.
Suitable USB sticks are available to purchase in the Accessories section of our store.
Scribble Strips provide the ability to label each pre-set as something that makes the most sense to the user.

For example:
- ABC News
- Morning Radio
- Evening Radio
- Classical Music
or anything else that is helpful.
Even label the presets in the native language of the user if English is not their first language.
Five blank scribble strip cards come with each radio. You can easily photo copy more or send us an email and we'll send you some more.
Headphones
A 3.5mm headphone socket is available on the rear for private listening.
Power Supply
Australian safety approved power supply is included with each radio.
Battery Operation
For portability, the Relish Radio can also operate from 4 x D size batteries. These are not included but are available for purchase from the accessories section in our store.